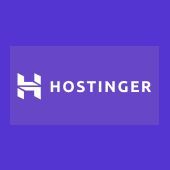 Hostinger Single Shared Hosting – $2.99/mo for 12 months
(£2.99/roughly AU$4.00)
Hostinger has slashed the price of all its web hosting plans by up to 90% – and they all come with a free domain name to boot. The deal won't last long, so check it out.View Deal
Popular web hosting company Hostinger is currently holding a back-to-school sale with one particularly special element: a free domain name with any plan that lasts longer than 12 months. 
The obvious catch is that the domain name is leased to you for the first year only, after which you'll need to extend the subscription (at a higher price) or give it up (and risk having to deal with a domain squatter).
The cheapest plan will cost you $2.99/mo (or £2.99/roughly AU$4.00) for a 12-month subscription, but only $0.99/mo for a four-year…
Source link